Melbourne, Australia, is a seriously multicultural city. Melbournians embrace the outdoors and love cultural events, eating out, going to galleries, spending time at the beach and playing virtually any kind of sport. In fact, Melbourne was named the most livable city of 2012 in the Economist Intelligence Unit's global livability report. Founded in 1835, Melbourne now has a population of more than 4.1 million and plenty to offer visitors. If you have four or five days to spend in this fine city, here are a few places with a strong design element that may inspire you.
Must-Sees
Federation Square:One of Melbourne's most well-known and visited sites, Federation Square is home to a large open-air space and several cultural buildings. The Atrium, Edge Theater and Australian Centre for the Moving Image (ACMI) all offer visitors an array of wonderful and varied exhibitions.
Location:
 Corner of Flinders and Swanston streets
Noteworthy:
 The site has been home to the city morgue, a fish market and rail yards over the years.The highly controversial building shown here — one website called it one of the ugliest in the world — became Melbourne's unofficial city square in 2002, after an international competition was held to create a cultural building that could also house an open amphitheater for up to 15,000 people. Lab Architecture partnered with Melbourne architecture firm Bates Smart to design the spectacular space.
There are several other notable buildings inhabiting the 40,900-square-foot Federation Square, and each one pushes the boundaries of design with interesting materials and shapes that challenge the senses.
In addition to shops, cafés and restaurants, there are also several cultural attractions in the square. The Ian Potter Center: NGV Australia gallery is dedicated to showing only Australian art, while the ACMI showcases film, television and digital pieces. Both are free to view, although some fees may apply for temporary exhibitions.
More info: Federation Square, Ian Potter Center: NGV Australia, ACMI
Must-Visits
Melbourne Museum:Explores life in Victoria, the Australian state in which Melbourne resides, from the natural environment to the culture and history
Cost: 
Adults: $10 Australian; children under 16: free
Location: 
11 Nicholson St., Carlton
Noteworthy:
 The Forest Gallery and the Bunjilaka Aboriginal Cultural Centre are permanent exhibitions that are worth visiting.The Melbourne Museum is a three-story structure, with a glass facade that mirrors the historic 1880s Royal Exhibition Building that it sits beside. Designed by the architects at Denton Corker Marshall in Melbourne, this award-winning structure is something to behold.
More info: Melbourne Museum
Prahran Market: 
Melbourne's oldest produce market
Location: 
163 Commercial Rd., South Yarra
Noteworthy:
 The covered market houses many of the finest delis, butchers, seafood merchants and grocers in Melbourne.Prahran began as an open-air market in July 1867. The market moved to its current location in 1891, when the existing Victorian facade was designed by architect Charles A. D'Ebro.
More info:
Prahran Market
Must-Visit Shops
The GPO:A mecca for the serious shopper; a diverse range of retailers and eateries set in an elegant heritage-listed building
Location:
 350 Bourke St.
Noteworthy: 
It is well known that in Melbourne, road distances are measured and recorded in kilometers starting from the GPO.The GPO was designed in the neo-Renaissance style by A.E. Johnson. The two-level post office building was constructed between 1859 and 1867. In 1887 a third level was added with the famous clock tower, creating a city landmark. United States architect Walter Burley Griffin redesigned the building in 1919, creating an open space to the public sorting 
hall
.
The Australia Post stopped using this building for sorting mail in 1992, although it continued as a post office until 2001. Over the next several years, developers proposed a shopping mall and a major hotel development without success.
Following a major fire in 2001, the GPO building was restored and opened as a retail center in October 2004.
More info: The GPO
Baker D. Chirico: 
A
bakery designed with the humble bread 
basket
 in mind
Location:
 178 Faraday St., Carlton
Noteworthy:
 Try one of the custard-filled bomboloniCarlton is the coffee heart of Melbourne, so owner Daniel Chirico knew the area didn't need just another coffee shop. Since great bread is another Melbourne fixation, he fused the best of both worlds.Designed by March Studio in Melbourne, the place has shelving and a ceiling made from curved plywood, giving it an organic feel. The timber countertop serves as a giant 
chopping block
.
More info: Baker D. Chirico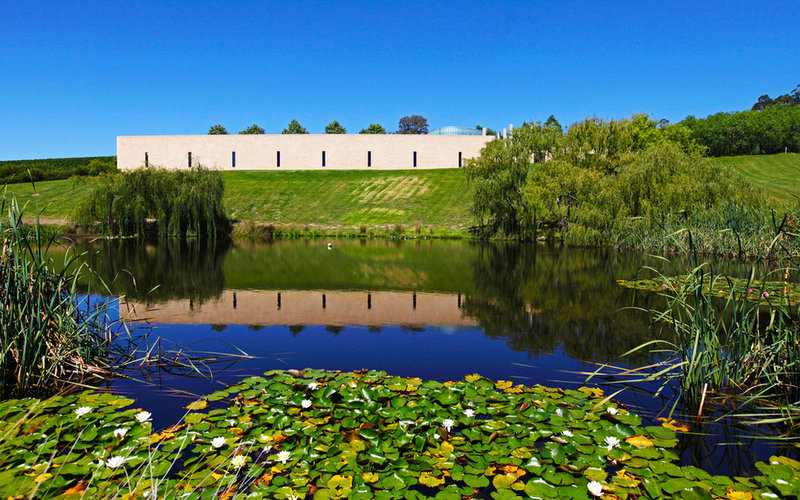 TarraWarra Museum of Art: 
A privately funded public gallery that focuses on Australian art from the mid-20th century to the present day
Cost:
 Depends on the exhibition; standard adult cost: $12 Canadian
Location
: 311 Healesville-Yarra Glen Rd., Healesville, about one hour from Melbourne
Noteworthy:
 Designed by Allan Powell Architects, the TarraWarra Museum has no unnecessary embellishments and uses materials that harmonize with the striking landscape.The estate is also home to TarraWarra Cellar Door and Restaurant.
More info:
TarraWarra Museum