With the York Food Festival in full swing, Tony Naylor returns to the city to update his 2009 budget eats guide, and finds 10 more restaurants, cafes, pubs and takeaways away from the tourist traps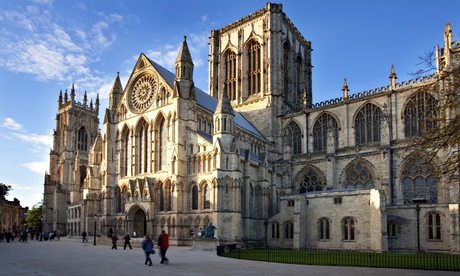 Coconut Lagoon
A lot of Coconut Lagoon's meat and fish dishes top £10 (various vegetarian dishes and dosas start at £6.45), so it may take some juggling over a jug of tap water to keep a meal for two at under £20. But make it happen. Go veggie, takeaway, do whatever is necessary to eat here because they serve some of the finest food the cash-strapped traveller is going to experience in York. As with the best South Indian cooking, a sample dhal thadka revealed new dimensions of flavour in each and every mouthful. It started out all warming and soul-stirringly savoury – smoky, in fact, due to the addition of dried chillies – but proceeded to work its way up through garlicky, sour tamarind and, thanks to some red onion and tomato in the mix, sweet, spritzy flavours, before finishing in a quiet, strong heat. Throw in a couple of silky, buttery paratha and you have a meal fit for a Moghul prince. The restaurant itself looks rather naff but you will be too busy cooing over your food to care.
• Vegetarian dishes and dosas £6.45-£9.95, other mains from £9.45. 56 Clarence Street, 01904 652828; coconutlagoonuk.com
The Perky Peacock Coffee Shop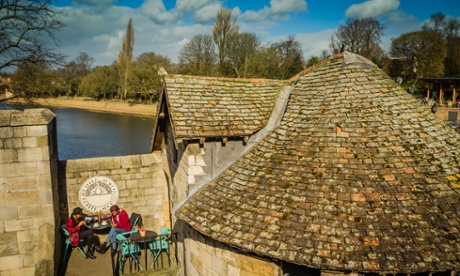 Hidden away under Lendal Bridge, the tiny Perky Peacock occupies a medieval tower that once functioned as a toll booth on the adjacent River Ouse. It is an atmospheric spot where the food is as seductive as the surroundings. First-rate, local ingredients underpin a menu of breakfast items (a bacon butty on Via Vecchia's cheese bread, anyone?), handsome (if pre-made) lunchtime sandwiches and home-baked cakes. Look out for the Peacock's sensational savoury Danish pastries, packed with green olives, tomato, red onion and pesto, and its salted caramel shortbread. A second Perky Peacock cafe on Gillygate also serves creditable coffee and a slightly larger menu of breakfasts and made-to-order/toasted sandwiches.
• Snacks from around £2, sandwiches from £3 takeaway. Postern Tower, Tanners Moat (under Lendal Bridge), 01904 613511,perkypeacockcoffee.co.uk
Mannion & Co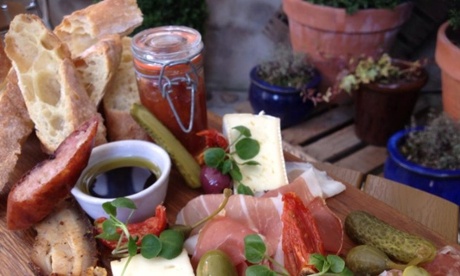 Those rustic, home-baked breads and beautiful cakes at the front of the shop aren't mere window-dressing. This deli-cafe delivers on that advertised promise. Owner/chef Andrew Burton learned his trade in some of Britain's best kitchens, including North Yorkshire's renowned Star Inn, and he brings a similar rigour to Mannion & Co's more modest menu of cheese and charcuterie platters, gourmet sandwiches and daily hot specials, such as eggs Benedict, rarebit or, more adventurously, Alsace bacon and boudin noir with fried eggs and toast. On a warm day, you might prefer to plot yourself in the courtyard garden, but to get the best value, take away a haul from the deli-counter and perch on the wall around the corner to eat and admire York Minster at your leisure. Mannion & Co's fist-sized sausage rolls, its knock-out Yorkshire curd tart and signature hot pork sandwich (the meat splendidly moist with good depth of flavour, rimmed with toffee-ish crackling and partnered with a clean, fresh apple compote), are all highly recommended.
• Takeaway sandwiches from £3.50, eat-in from £5.50. Eat-in meals and platters £6-£9.50. 1 Blake Street, 01904 631030, mannionandco.co.uk
Puddin' & Pie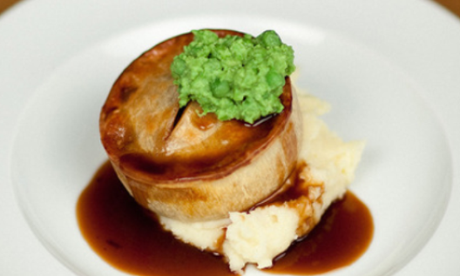 A walk out beyond the city walls, Bishopthorpe Road is not somewhere that tourists would normally find themselves. But it is worth the detour, particularly if you are visiting nearby Clifford's Tower, the remnants of York Castle. Something of an independent shopping and foodie hub, "Bishy Rd" is home to, among others, the Pig & Pastry cafe, which was featured in Guardian Travel's first budget eats guide to York; well-regarded Sicilian cafe-bar, Trinacria; and fastidious coffee and posh sandwich shop, Stanley & Ramona. Budget travellers should note that, as well as sensational cakes from York's Bluebird Bakery (do not miss its fudgy, grown-up chocolate brownies) Stanley & Ramona also sells yesterday's sandwiches for a knock-down £1.50.
Puddin' & Pie, meanwhile, is your destination for a proper marrow-warming, rib-sticking feed. The premise is devastatingly simple: P&P serves excellent Tom's Pies from Devon (other stockists include Harrods no less), with creamy homemade mash, terrific onion-rich gravy etc, to eat-in or take away. The menu is padded-out with a few other options such as savoury tarts served with salad and sausage and mash, but judging by my rugged steak and ale number – a seriously meaty mouthful with exemplary pastry – the star turn is very much those pies. There are plenty of meat-free veggie options too – some of them, such as mushroom, spinach and hazelnut with white truffle oil, refreshingly creative.
• Pie and gravy £4.10, pie meals up to £6.45. 7 Bishopthorpe Road, 07974 380283, puddinandpieyork.co.uk
House Of Trembling Madness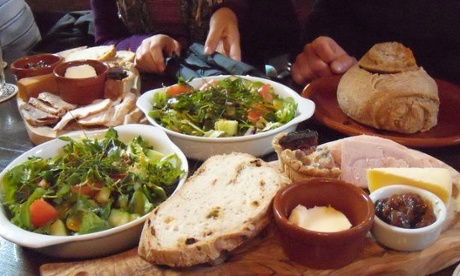 Decked-out like a medieval drinking hall (all exposed beams, stuffed and mounted animal heads and pelts flung over old church pews), the House of Trembling Madness is primarily a specialist beer bar. It has several alluring craft beers on draught – various Brooklyn, Bad Seed, Black Jack and Great Heck beers on this visit – and it sits above one of Britain's best-stocked off-licences (all bottles available to drink-in, corkage £1.25). So that drinkers can line their stomachs in style, HoTM also serves a repertoire of gutsy, filling hot dishes and picky platters. Produced in a tiny galley kitchen behind the bar, this menu of low-intervention dishes, many of them more about assembly than cooking, is largely predicated on the quality of its bought-in prime ingredients: artisan Via Vecchia breads; pâté and cured meats from Mackenzie's Yorkshire Smokehouse; and award-winning products from Ye Olde Pie & Sausage Shoppe. Nonetheless, the detail is impressive. A sample Yorkshire rarebit (£5.50 for a huge portion, including three rashers of excellent bacon and a significant side-salad), was the genuine article, its topping a proper smooth, beer and mustard-spiked paste. Be warned: due to that small kitchen, you may have to wait a while for your food. Settle in and enjoy your pint.
• Breakfast from £3, light meals £4-£6, main meals £6-£9. 48 Stonegate, 01904 640009, tremblingmadness.co.uk
Tarts and Titbits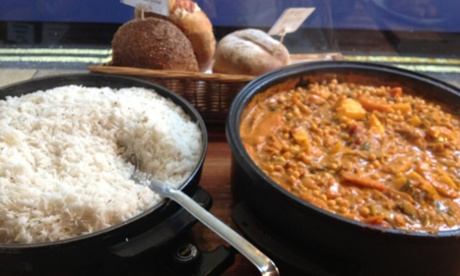 The queue at lunch speaks for itself. This unpretentious deli-cafe, just beyond the city walls on Gillygate, is a big hit with local office workers who love its honest home cooking and keen prices. The takeaway food counter is stacked with cakes and tray-bakes, regional favourite, Voakes' pies, loaded pizza slices, salads and, beyond that, you can browse a relatively exotic sandwich menu. Look out for the popular bhaji burgers with mango chutney and raita or a regular special, roast back bacon with salsa. I grabbed a box of wholesome, tasty dhal (one criticism, its spices needed more grinding as a few mouthfuls were a tad gritty), and a huge plump, sensitively spiced chicken samosa. Total cost? £2.20.
If you are looking for something more refined on Gillygate, Love Cheesemay be of interest. On Fridays and Saturdays this cheesemonger opens its cafe and "secret garden", where they serve upmarket sandwiches and sharing boards of Yorkshire, British and international cheeses (cheese boards, £9-£15).
• Snack items from around £1, sandwiches £2.40-£3.20. 78 Gillygate, 01904 613875, no website
Shambles Kitchen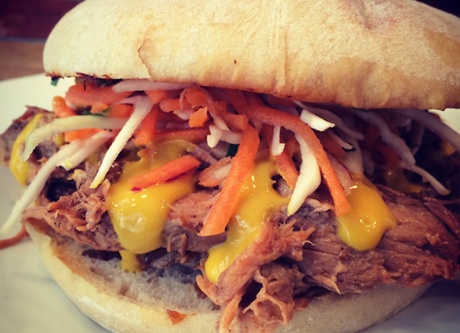 The Shambles Kitchen dishes up a few other items (cakes and smoothies, wraps, a daily soup such as chickpea, lentil and harissa), but there is no doubting the main draw: its pulled pork sandwich. Dripping in its own juices and long on flavour, the meat is slow-cooked for 12 hours and served on fat buns with a peppy raw slaw and a choice of sauces – go for the smoked apple. At £5.50 a pop, these are not particularly cheap baps, but it is tasty tackle and you are putting money into a business where, in stark contrast to the many chains which crisscross York, everything is cooked from scratch using local ingredients. The profits, moreover, help fund a juice bar project in Yorkshire schools.
Talking of limited-choice gems on the narrow, cobbled Shambles, York's much-loved artisan bakery Via Vecchia also serves takeaway hot buttered toast and cinnamon and raisin bagels from Tuesday to Thursday (£2, 6 The Shambles) that cash-strapped visitors looking for a memorable breakfast should investigate.
• 28 The Shambles, 01904 674684, shambleskitchen.co.uk
Duke of York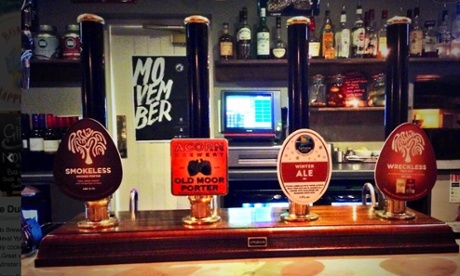 Modern gastropubs tend to fall prey to all sorts of pretentiousness. Not the Duke of York. Opened at the back-end of 2013 by Leeds Brewery, the Duke's griege makeover is smart but sober – it is still very much a pub (with craft beers and real ales to the fore), and the pricing of its food, particularly in a tourist honeypot like York, is refreshingly sensible. Its main dishes hover at just under or over £10, but, for budget travellers, the real boon is its afternoon menu of sandwich meals (available from midday to 5pm). Served with fantastic skin-on chips that taste, in the best way, of freshly dug earth, rainfall and clear country air – these are substantial plates of food lifted by attentive cooking. The batter on my fish goujons was notably light and not particularly greasy, and the sandwich (we will have to debate the wisdom of putting fish goujons on a sandwich another time) was underpinned by an excellent sharp, gherkin and caper-packed tartar sauce. Washed down with a half of Tyne Bank's refreshing, zesty Pacifica (£1.70) it was a very satisfying lunch.
• Sandwich meals £5.95-£6.95. King's Square, 01904 676065,lbdukeofyork.co.uk
The Hop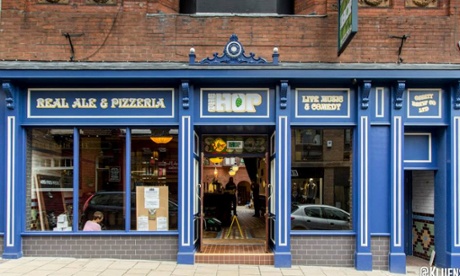 Walk through this Ossett Brewery craft beer bar and it opens out into a rather ugly barn of a room: all exposed, new red brick under a glass atrium, the walls incongruously decorated with huge, historic portraits of local dignitaries. The room does have one key eye-catching feature though, a wood-fired oven which gives the Hop an edge over many of York's pizzerias. The pizzas are paper thin in the middle, boast reasonable char and the dough easily digestible. However, this recommendation does come with a caveat or two. In particular, rather than a freshly-blitzed tomato sauce, the kitchen uses its own homemade one – an apparently cooked sauce with herbs in it – which, on this visit's sample margherita, tasted heavy and curiously sharp and "metallic" at its edges, as cooked tomato sauces tend to. It lacked zing, basically. A further heavy-handed scattering of dried herbs on top had turned that margherita, a pizza that should be all about pure delicate flavours, into a rather clanging jangle. The solution? Go for the pizzas with stronger, punchier toppings, such as the Italian sausage or anchovy and caper Napolentana, where such nuances of flavour are less important. Previously, I've Hoovered up both with gusto.
• Pizza £6.50-£9. 11-12 Fossgate, 01904 541466, thehopyork.co.uk
El Piano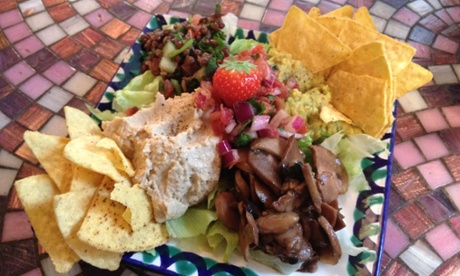 If there was one serious oversight in my original 2009 "budget eats" guide, it was not paying full due respect to this vegan veteran. Its soups, dhals, top-ranking falafel, hummus and tinas (fried carrot patties of remarkable ersatz-creaminess; it's the coconut milk apparently), are the stuff of local legend and tasty enough to have persuaded many sceptical carnivores to come around. You can eat in of course, in the bright, surprisingly Andalucian-styled cafe-restaurant (El Piano has sister branches in southern Spain), but the takeaway hatch is where you will find a serious bargain. The various Hispanic, Indian and Mediterranean meal-boxes are great, filling value and full of sunny flavours. Those struggling after a heavy night out on York's tiles, please note: El Piano's "morning after" breakfast platter of various healthy and restorative items also includes a potentially life-saving shot of tequila.
• Takeaway £2.95-£4.95, eat-in meals £5.25-£9.95. 15-17 Grape Lane, 01904 610676, el-piano.com