Located on upland prairie, Emporia was founded on February 20, 1857, drawing its name from ancient Carthaginian Africa. Emporia is particularly known for its newspaper, the Emporia Gazette, published in the first half of the 20th century by the legendary newspaperman William Allen White. The paper became the widely perceived model of excellence in small-town journalism.
The city is marked by its green spaces and offers a lot of recreational functions.
You can walk, practice sport or see open shows in one of the eighteen parks.
Museums and Galleries
To a better know of city history visit the Raniger Memorial Museum, chase county historical society museum, Territorial Capital Museum, remember the prehistoric time in Volkammer Trail, etc
If you have eyes of artist don't forget to visit Spencer Museum of Art.
Ranger Memorial Museum
You can found Indian artifacts, stuffed native animals and local of historical moments.
Chase County Historical Society Museum
The building that houses the Chase County Historical Society Museum and Library is located at the corner of Broadway and Friend Streets. It is one of nine places in Chase County which has been entered on the National Register of Historic Places, this building being entered on November, 1977. The two-story building, constructed of native stone, was built in 1882 and was originally used as the Chase County National Bank which continued in business until 1928. The building was used by several businesses in the years following. In 1976 it was purchased by the Chase County Historical Society for use as a museum, library and office. There are two floors of exhibits.
Territorial Capital Museum
This building was started with an appropriation of the United States Congress. It was completed to the bottom of the first floor windows when the United States House of Representatives defeated the Lecompton Constitution by only eight votes. The followed passage of the Lecompton Constitution in the U.S. Senate and President James Buchanan encouraging its adoption. This meant that Kansas failed to enter the Union as a slave state with Lecompton as its capital. It was also from here that the 13 stone masons who were working on the building picked up their guns and headed south on the Lecompton road to meet Col. Shombre and Captain Walker, in their projected attack on Lecompton. This was to be known as the Battle of Fort Titus.
Spencer Museum of Art
In 1917 Sallie Casey Thayer, a Kansas City art collector, offered her collection of nearly 7,500 art objects to the University of Kansas to form a museum "to encourage the study of fine arts in the Middle West." Her eclectic collection included paintings, sculpture, prints, drawings, furniture, rugs, textiles, metalwork, ceramics, glass, and other examples of decorative arts, primarily from Europe and Asia. Eventually the University of Kansas Museum of Art was established in 1928, based on this collection. Over the years the collection has grown substantially thanks to the generosity of many benefactors and the expertise of many curators.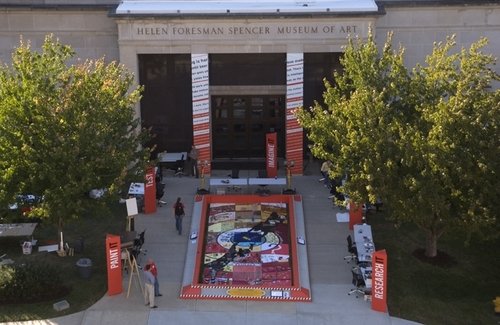 Museum of Natural History
The Schmidt Museum of Natural History contains a comprehensive collection of approximately 600 taxidermy mounts of birds, mammals, reptiles, and fish from Kansas. A research collection of more than 2,500 bird and mammal skins from various parts of the U.S. is maintained for advanced study and research.
Watkins Community Museum of History
The Douglas Country Historical Society encourages civic engagement by supporting the research and interpretation of county history through active exhibits and thought-provoking educational programs.
Our values is a variety of perspectives on the struggles for freedom.
Mulvane Art Museum
Here, you do more than gaze at art on the wall. You explore the story behind a piece. You move through and marvel at larger-than-life installations. You connect with others. You can create art of your very own.
The Mulvane is for everyone – art lovers, kids, adults, teens, students, families.
Points of interest and Fun
There is a wide range of choices when it comes to fun. You can visit the zoo:
Kansas State University Insect Zoo or Tapeka Zoological Park.
See a good show in the Universe Theatre, is a very good choice.
If prefer Visit a store, and maybe buy some remembrance of the city, don't have a better place that Overbrook Quilt Connection.
Kansas State University Insect Zoo
The Kansas State University Insect ZooIncludes displays of preserved, live and fossil insects. Several of the displays are hands on, including the use of microscopes to view preserved insects, and a creative kitchen where each cupboard or drawer had examples and details about the creatures that may be found there.
Tapeka Zoological Park
The best known feature of the Topeka Zoo is the tropical rain forest which was impressive when it was built in 1974. The zoo devotes most of its exhibits to larger species of animals, though typically there are only one or two members of the species on exhibit. The medium sized zoo is well laid out, and the animals are in large attractive enclosures.
Chase County Courthouse
The historic Chase Courthouse is viewed as the center-piece of our community. It was built in 1873 by the native limestone and is the oldest operating courthouse in Kansas on one of the oldest West of the Mississippi.
Unmatched in durability and design, the courthouse remains a living tribute to its builders and the pioneers who dreamed of a courthouse that would last more than 100 years
Z bar/ Spring Hill Ranch
Cattleman Stephen F. Jones built his home in 1881 with hand-cut limestone. The 11-room house is characteristic of the Second Empire style of 19th century architecture. The springs on the hillside provided water to the house – thus the name. Spring Hill Farm and Stock Ranch.  Nearby are the massive three-story limestone barn and Lower Fox Creek School. A one-room schoolhouse. The ranch was designated a National Historic Landmark in February
Design Center
Emporia State University – Department of art
University's Department of Art is one of approximately 250 art departments nationally accredited by the National Association of Schools of Art and Design. We offer a Bachelor of Fine Arts degree in Art with studio concentrations in ceramics, engraving arts, glass, graphic design, painting, photography, printmaking, and sculpture. Pre-art therapy preparation is available through our Bachelor of Science degree in Art with an emphasis in Psychology.
Emporia Arts Council
The Emporia Arts Council is dedicated to bringing quality performances and artistic events to the Emporia Area.
Our mission is to: Educate, Advocate & Celebrate the Arts
Country Club Living
Emporia Country Club
Emporia Country Club was established in 1911 by a group of local businessmen looking for a common setting to enjoy friendship, good food, golf and social occasions. The club has shared a rich heritage with the beautiful city of Emporia for over 100 years at the original location of 18th and Rural. Tradition has been a major factor in the life, growth and stability of the Emporia Country Club.
The clubhouse features a Pro Shop, "19th hole", banquet room and member dining area. We also have tennis courts and a swimming facility for the membership.
Luxury Properties
Emporia Apartments – Luxury Village
Located on the doorstep of Commercial Road, Grattan Street, Greville and Chapel Streets Emporia will provide its residents a level of convenience unmatched in the local market.
With a stunning contemporary design by Chris Idle of Idle Architecture and refined interiors by Sue Carr of the Carr Design Group each designer apartment features. Amazing north facing city and west facing Port Phillip Bay views.
Includes:
Natural light to all bedrooms; Stunning timber floors; Stone bench tops in the kitchen and the bathrooms; In wall cisterns with soft close toilets ; Floor to ceiling tiles in all bathrooms; Fully imported Italian kitchens with glass fronted cabinets; Stunning Swedish made Asko appliances with 5 year warranty; Secure basement car parking all.
Celebrities Homes
Seelye Mansion
The Seelye Mansion is one of the finest homes in Kansas. A New York architect designed the new home in Georgian style for Dr. and Mrs. A. B. Seelye in 1904.
The mansion contains the original furniture and Edison light fixtures. You will tour 25 rooms, including eleven bedrooms, ballroom, bowling alley, and kitchen areas. Special items of interest are the beautiful dining room, music room with gold French furniture and Steinway grand piano, library, and the Tiffany-designed fireplace in the grand hall.
The Patent Medicine Museum has many artifacts of the A. B. Seelye Medical Company. Founded in 1890, more than 100 products were sold over a 14-state area.
Restaurants
To enjoy a good meal and taste the gastronomic food of region visit Do-B´s our Bobby D´s BBQ.
Do-B's
Bobby D´s BBQ
After years of corporate work, BobbyD took the plunge of satisfying his love for barbecue in 2001. Having eaten barbecue from extensive travels of the United States, and after success with competition cooking, BobbyD began and has been voted the Emporia Gazettes "Best of the Flint Hills Best Barbecue" for nine years running.
Wineries
Oz Winery
At Oz Winery we're more than just wine! You can find gift items for everyone, like Kansas made jams, Sweet Granada Chocolate, imported cheeses, fine cigars, and more.
Hotels
The best places to take a rest, in my opinion are:
Guest House Emporia, Budget Host Inn Emporia.
Prices very low and architecture is much unusual for a hotel, to imitate the typical ranches of state.
Guest House Emporia
Guests can dine in Guesthouse Inn Café and Lounge, which serves breakfast and lunch. The property also has a hot tub and sauna. Guesthouse Inn is within a 10-minute drive of the David Traylor Zoo of Emporia. The Lyon County Historical Museum is 3 miles from the property.
Budget Host Inn Emporia
While staying here one will find exceptional quality and value. With more than 160 inns and 7 000 guestrooms in 37 states the inns are conveniently located to major attractions restaurants shopping and recreation areas. The inn features free parking 24-hour front desk free airport shuttle laundry service and kids playground. To ensure that the travelers stay in a clean comfortable room each inn is regularly inspected by a professional highly-skilled inspector.
Candlewood Suites Emporia
Nestled on the eastern edge of the Flint Hills, this Candlewood Suites® Emporia, KS hotel offers a warm hospitality and excellent accommodations. Set against the beautiful prairie, with convenient access to local businesses and the rich history of Kansas, this hotel welcome business and leisure travelers.
This hotel's location in Emporia, KS is ideal for those traveling on business. Also presents plenty of entertainment options. During hot summer days, take a dip in the pool at the Jones Aquatic Center just one mile away. The historic Granada Theatre presents a wide variety of performances. The Symphony in the Flint Hills offers fantastic concerts each year, and tickets sell out very quickly.